UnikoinGold is an ethereum-based, decentralized crypto token designed for high-volume, high security, inexpensive gaming and esports related transactions on the Unikrn platform.
The company behind UnikoinGold is Unikrn. Their goal is to fuel a one-stop, all-inclusive esports ecosystem with UnikoinGold transactions — tailored with experiences for fans, players and content creators —bringing you the best news, analysis, games, immersive experiences and, of course, betting.
The Market for Esports betting
The Esports industry is booming; there is little doubt about this. The marketplace is still very new and thus underdeveloped in terms of platform providers. However, the current demand and the potential future demand are quite staggering
It is estimated that Esports revenue has grown from virtually nothing a few years ago to a massive $696 million already and is set to expand further, growing up to $1.5 billion by 2020
In this linked article, you can read how the Esports industry is growing rapidly. More importantly though, the article highlights how this value doesn't include the betting element of the industry. In fact, the statistic provided about the NFL demonstrates the important point which is that betting actually outweighs the other aspects of the industry.
How Unikoin Gold Works
Unikoin Gold can be used on the Unikrn's platform to make e-sports bet.
Betting will consist of 2 main ways:
Betting on other user results
Entering competitions or 1v1 and backing yourself
Refer to the picture below: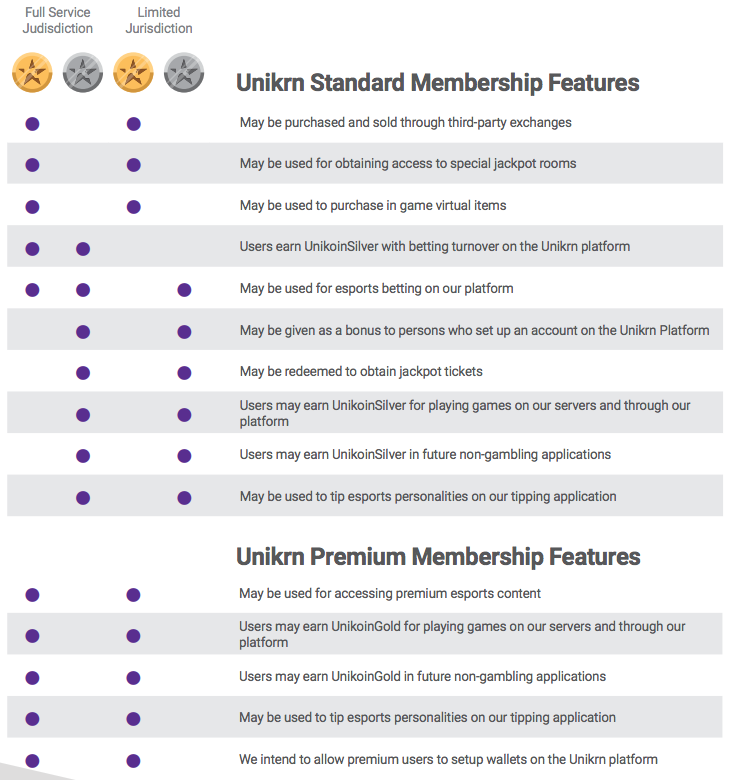 If you're wondering what is Unikrn silver, you can earn the silver coins by paying for a premium membership. After that, any actions such as betting on the platform are rewarded with silver coins.
The purpose of the coins can be seen from the image.
Betting on other users is a huge part of the platform. With regular Esports events occurring worldwide and the size of these events growing at a tremendous rate, it is fair to say that some of the competitors are becoming internationally-known superstars.
It's actually a surprisingly commonly shared opinion in the industry that many of these gamers will become household names over the next decade or so.
The point is this; with the rapidly rising nature of these gaming events and superstars, betting on their results is a hugely growing industry and thus is a huge part of the platform. UnikoinGold will allow for this to be possible on their platform through Unikoin Gold, which is their betting "currency"
Entering competitions or playing 1v1 and backing yourself is another very appealing element of the platform.
Token
If you're a gamer or you want to bet on esports, this is a great platform for you. If you're an investor, I would have to say to be wary because of their token distribution.
They have decided to carry out the distribution as follows:
20% – Token Sale
35% – User Growth, Development etc.
15% – UnikoinGold Betting Reserve
20% – Company Cold Storage
10% – Founding Team & Employees
That means that in the token sale, they are only offering 20% of their overall tokens to investors. The remaining 80% is held in the various other locations.
Not only will this cause a very high inflation rate for the currency if these tokens are released, the amount of money raised is based on just 20% of tokens being sold.
As they are attempting to gather around $100 million (depending on Ether prices) together, this means that the value 20% of their company at $100 million.
Where to buy Unikoin Gold?
Unikoin gold can be purchased from a few big exchanges such as Bittrex, Upbit, Kucoin, Qryptos, and a few others. As of now it is not listed on Binance yet.
Conclusion
To conclude, I would say the following;
The marketplace of esports is growing rapidly and is primed for cryptocurrency-based platforms to dominate.
UnikoinGold could possibly be this crypto as they have an excellent plan and are setting themselves up very well to serve their customers.
CryptoMeNow is on a mission to make cryptocurrency easy for everyone to understand.
Our core product is our free daily newsletter where we send you need to know information about cryptocurrency that everyone can understand in less than 3 minutes a day.
Please subscribe to our newsletter and share it with your friends! You can subscribe directly at CryptoMeNow
You can also follow me on Twitter @itswilson8